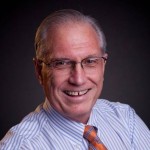 Steve Gladis, Ph.D. Distinguished executive coach, author,
and speaker, Dr. Steve Gladis is one of the country's leadership experts. CEO of Steve Gladis Leadership Partners—a leadership development company—he is the author of 19 books on leadership and a professor at George Mason University.
His company works with businesses, associations, and US government agencies, and he speaks regularly at conferences
and corporate gatherings. A former faculty member at the University of Virginia, Dr. Gladis also served as an FBI special agent and was a decorated officer in the US Marine Corps. His company donates a significant portion of corporate profits back to the community. His newest book, Positive Leadership: The Game Changer at Work, is available on Amazon.
Kimberly Gladis serves as president and CEO of CorePerformX Advisory Group, a firm specializing in transforming core business strategies into measurable company performance. The firm
helps clients translate objectives into actions, ensuring the right people, processes, and technology are in place to support
execution of the corporate strategies. Kimberly has more than
15 years of business experience, with her diverse commercial background consisting of various positions in sales, sales management, sales and marketing effectiveness, business analytics and sales operations. Also, Kimberly is trained in Executive Coaching and Lean Six Sigma methodology, has significant experience evaluating, selecting, and implementing CRM systems, and has led large scale systems/data integration efforts. Her skills have been acquired and tested across organizations from large global companies all the way to start-up entities with no infrastructure, as well as in between.
Steve Gladis Leadership Partners
Our Mission: We partner with executives and their leadership teams to help them become even more effective, collaborative, and positive

Our Vision: To be the trusted source of executive leadership development in the Washington National Capital Region

Our Values: With all of our partners—clients, vendors, and associates—we build confidence and trust through high personal and professional trust-based values: Character, Competence, and Caring

Our Core Functions: Steve Gladis Leadership Partners provide…
–Executive and Team Coaching, as well as, Strategic Problem Solving
–Professional Leadership Training and Development
–Motivational Speaking & Thought Leadership in the Discipline of Leadership

What Distinguishes Steve Gladis Leadership Partners
–Possess hands-on leadership experience in business, military, government, and nonprofit organizations
–Have a wide array of clients in large and small business, the federal government, and associations and nonprofits
–Conduct research and write books, a blog, articles, and columns on the latest developments in leadership
–Engage in the Northern Virginia community through active service and philanthropic leadership
Contact information
The George Mason Enterprise Center
4031 University Dr.
Fairfax, VA 22030
e sgladis@stevegladis.com
t 703.424.3780